How our Youth Fencing Program helps your kids grow
Most parents watch their kids struggle learning and enjoying sports in general. Their skills don't improve, they lose confidence, therefore they stop loving sports. At PDX Fencing we've developed a youth training program that is fun, engaging, and informative so your kids fall in love with fencing and strive reach their potential.
We know how frustrating it can be to watch your kids give up or feel lost. Often this impacts their behavior outside of the sport too. Many kids lose confidence in themselves,  so they perform poorly in school, and just don't seem to have as much fun anymore. But it doesn't have to be that way.
PDX Fencing is led by Charles Randall. Charles has coached fencing for over 30 years, including youth through Veteran's national and international. and NCAA champions. As a result he knows how important it is to treat every athlete like an all-star, no matter how young they are. Over the years he has developed a powerful youth program that has helped countless numbers of young athletes reach their potential while enjoying the game more and more each time they play. His hand picked staff of well seasoned, accomplished coaches led by head youth developement coach Hector De La Torre, share his philosophy, and have also developed youth champions.
When you bring your kids to PDX Fencing . . .
They will learn our simple process to become their best. They will:
Fall in love with a cool Olympic sport – saber fencing!
Learn and master the fundamentals, including proper techniques and mechanics of our sport
Surpass their goals and gain confidence, in and out of they gym
Your kids deserve to be treated like all-stars. With PDX Fencing you don't have to be concerned about the coaching or training your kids are receiving – you can see it yourself.  When you bring your kids here you are empowering them to be confident, consistent, self-motivated and to reach their potential.
Safety is our priority. We require everyone entering to:  use hand sanitizer or wash hands. If you have a cold, fever or are not feeling well, please cancel your class or lesson.
Has your child dreamed of sword-fighting, becoming a musketeer, a jedi knight or dueling?
"My daughter has been fencing here since age 7. She made her dreams come true and has been recruited to her first choice college, for the fencing team. They have encouraged, inspired, believed and been with us all the way. "
"My daughter started fencing here at age 10 and has grown up surrounded by coaches who have high standards yet set the tone for great family values. Now my young son and even my wife are fencing and all three are winning national medals. The family atmosphere really set this club apart.
Once your child has completed the Saturday beginner's class, workbook, and demonstrates a good skill level,  it's time to move up to the next levels. Promotion is done by skill level and coach recommendation.
 In the next levels of our youth fencing program your child gets
Additional class times and more attention
Co-ordination, agility, flexibility, personal skills, technical and tactical skills development through fun games and practice.
Mental strength training, emotional control, strength and stamina training, nutritional guidance, one on one mentoring, local and regional tournaments
At the highest level (Competitive 2) high performance training, mental toughness and skill training, national tournments, participate in tne North America Cup Series, those who qualify go to Jr. Olympics and National Championships. For those wanting to make college teams or Team USA for international tournaments, or if you just want to stay recreational but take your fencing to it's highest level.
Many of our fencers have been recruited to, and fence for some of the best Universities and Colleges in the USA including Stanford, John Hopkins,  Northwestern, Notre Dame. Temple, UNC, Drew University, Brown University and more. 
Youth Fencing Program Next Level Classes
Youth club member classes
Join the club! Club members enrolled in our youth fencing program receive additional attention, discounts on private lessons and camps, and a 5% discount on most merchandise. All classes require a USA Fencing membership (basic membership $15.00). If you do not want to join the club but want to take individual classes, you must be a USA Fencing member – each non-member class session is $35.00 US per class. Subject to coach approval.
Saturdays 11:15- 12:15 p.m. ages 8+

For ages 8-12 - Sat. 11:15-12;15 pm
Some equipment is loaned to you. Wear athletic shoes, t-shirt, loose comfy pants. You will need to purchase your own own glove, $15 - $22.00, jacket, and mask. Equipment available in our pro shop. Club member discount available.

If you have long hair bring a pony tail holder, bring a water bottle
Club members with their own mask, jacket and glove do NOT have to wear a face mask inside their fencing mask.
Basics of defense, offense and movement are the foundation of fencing. Balance and skill execution in both offense and defense are taught in drills and footwork.
Private lessons optional, student coaches are available on Saturdays and a great way to get started on an ad hoc basis.
Sat 12;30-1;30 pm Club Members only
For ages 13-17: Sat 12:30 - 1;30
Add a chest protector, and fencing gear bag to your gear. For tnose wanting to practice at home you can get your own saber and saber holder.
5% club member discount on most merchandise in our gear shop.
Fun fencing games, agility and co-ordination skills training included. Understanding lines of offense and defense, right of way rules and foundational tactics,
Workbook must be completed and all three tests passed (open book tests are printed in the workbook)
Summer and winter fencing camps are recommended to advance skill and tactical level.
Private lessons optional, student coaches are available on Saturdays and a great way to get started on an ad hoc basis or schedule regular lessons with coaches.
YOUTH : ages 8+
Tues. & Thurs 6:00 - 7:00 pm

Add fencing knickers, to your, mask, chest protector, jacket and glove. This is also a great time to add a sword and sword holder if you dont have one yet.
Start to compete in our in-house class tournaments.
Fitness, agility and co-ordination skills training included. Vocaulary, advanced tactics, footwork and technique.
5% club member discount on most merchandise in our gear shop.
Summer and winter fencing camps are recommended to advance skill and tactical level.
Private lessons optional but highly recommended.
pre-competitive/Recreational
Mon. 6:00 - 7:15 pm Wed. 6: 00 - 7:15 pm Fri: 5:30 - 7:15 pm
Fitness and introduction to mental strength training included.
Start participating in the club series of tournaments, then advance to the local regional youth and Jr. circuit. Some students may qualify to compete in national youth tournaments and Jr. Olympics.
Must have full practice gear & acquire tournament electric gear including sabers., spares and a fencing specific gear bag.
Summer & winter camps highly recommended.
Private lessons highly recommended., especially for those wishing to compete on the circuit.
competitive High performance
Mon,Wed, Fri 4:00- 6:30 pm/Tue,Thurs 4-6 pm,
Fri open bouting
Fitness and mental skills training are incorporated.
Compete in local and regional tournament circuit. Optional-start to compete in national level tournaments including youth championships and jr. Olympics. for those wishing to fencing in college and represent their university, competing nationally is required.
Full tournament equipment required, including spares. and a travel fencing bag.
Private lessons highly recommended. Private lessons are required for those competing nationally. If going to National championships then Pre-nationals camp is required.
Competitive Hi Performance - Take it to the Max!
Fencing at this level will improve your teenager's life! Skills learned reinforce positive habits including: time management, commitment, smart choices, academic achievement and more. Our highest level program for serious fencers wanting to make a college team, Team USA, national championships or just reach their full potential.
Fencers compete regionally and in the North America Cup Series! Those who qualify have the option to participate in Jr. Olympics, Olympics trials, summer national championships and a chance to represent the USA around the world by earning a spot on Team USA.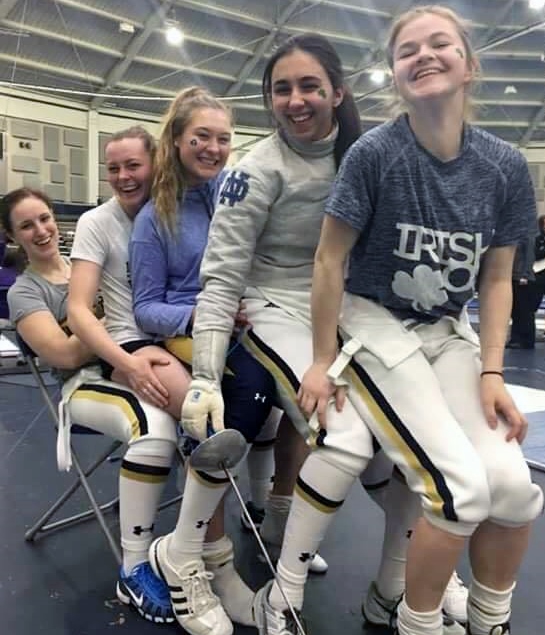 Our high performance program is comprehensive from fitness, nutrition, mental skills training, video replay analysis, motivation, sportsmanship, leadership, personal responsibility and more. This level is where college coaches scout national tournaments looking for experienced athletes. How far do you want to go?
Mon, Wed, Friday 4 – 6:30 p.m open bouting Fridays until 7:30 p.m.
Tues, Thurs 4-6 pm
Fitness included daily
$275.00 per month.
Lockers $6.00 per month when available
Logan Spear won the men's national champion title, then went on to Stanford University. He became 2x Stanford Fencing team captain  and graduated winning the prestigious Block "S" award for Men (highest GPA of sr. letter winners) and the Terman award (highest GPA of all graduates of the College of Engineering). Logan graduated with a Masters Degree of Science program at Stanford.  He is working in full time in the field he studied for, and is an active mentor in our fencing club.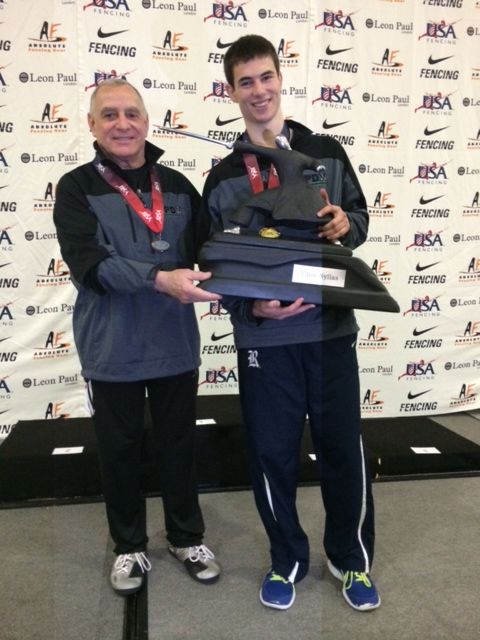 Our students have gone on to top schools
some of the universities our graduates have gone on to . . .