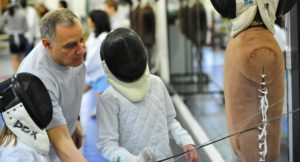 Camps are a great way to boost skills and advance more rapidly in an focused setting, or for an introduction to Olympic saber fencing in our fun and exciting Learn To Fence Camps.
We offer several camps throughout the year in our club and in the City of Hillsboro Parks and Recreation Centers (see their website directly – LAST summer Learn to Fence camp in Hillsboro is August 27 – 31, 2018 from 9 – 12 Mon-Friday , see page 28 of HIllsboro activities guide click here
Camps in our club in Beaverton (right off the 217 Freeway at Allen):


Summer 2018 Learn to Fence Camp In Beaverton:
Youth Beginners Learn to Fence Camps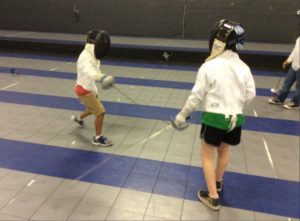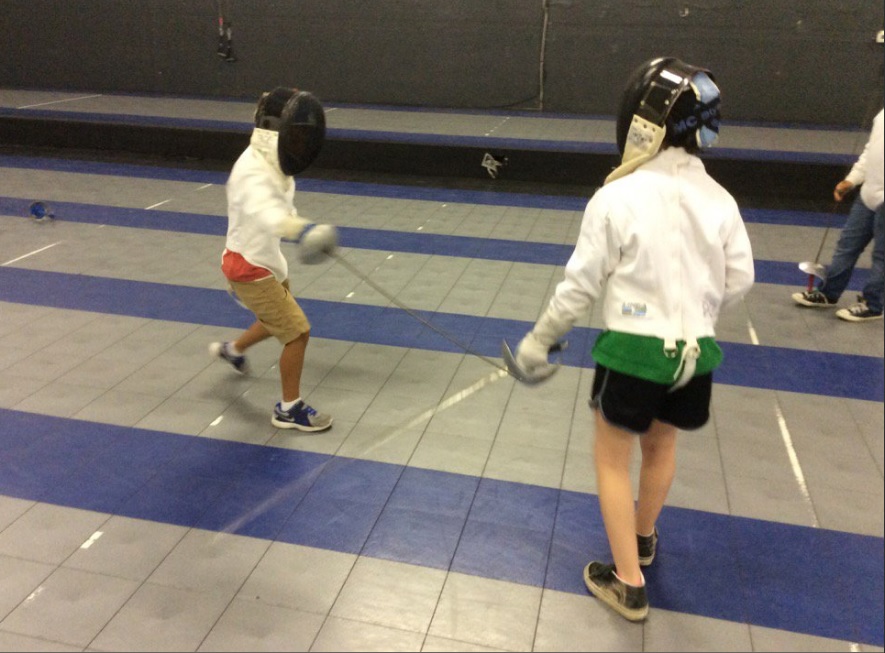 LAST summer camp – Still some space available, register now!
Session 2:  August 20 – 24, 2018
1/2 day camp   Mon – Friday 8:55 a.m – 11:55 a.m  $175.00
Full Day camp  Mon – Friday 8:55 a.m – 3:55 p.m  $350.00 (bring your sack lunch and drink)
Prepay 45 days in advance and save $25.00
Unleash that inner Jedi knight or Musketeer and get off that device! Fun, warm up games focus on agility, co-ordination, paying attention. Learn the basic defense and attack skills. Drills for blade work, technique and beginner tactics. Fencing teaches creative problem solving, listening skills, discipline, good sportsmanship, self-confidence, perseverance and a host of wonderful life skills, most importantly it's fun! Professional coaches lead an active, fun days learning to master the sword and making new friends. For full day campers we will do a movie daily during the lunch/rest break including the original Star Wars movie! During the week we will demonstrate light sabers that you can now use in special light saber tournaments.    See Flyer for both  Learn To Fence camps here
Register on line now, click here.


August International Hi-Performance Advanced Camp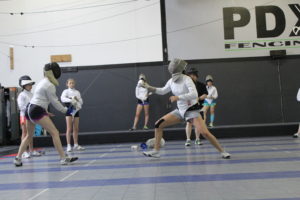 Aug 5-11, 2018
Sunday: 11:00 – 3:30 Picnic at the Lake
Mon – Friday: 9:00 a.m – 4:00 p.m
Saturday: 11:15 – 2:30ish (or when tournament ends)
Must be age 13+ with min. of 3 years of experience including competition experience (or by coach recommendation)
Club Members $375.00     Non – members $475.00  additional home-stays for minor age children at $35.00 per day, limited space.
Our popular annual International Camp draws fencers from all over the globe. Fencers including Olympians and national team members from Mexico, Spain, China, Puerto Rico, France, Germany, England, Taiwan, etc. have and continue to join us for training. Get ready for the upcoming competition season at our most popular camp of the year. Opponent analysis, tactical and critical decision making, distance control, advanced blade work technique that you can take with you and practice on your own. Camp starts on Sunday at our annual club picnic at a beautiful lake, where you can get to know your fellow campers and club members while swimming, kayaking, playing games. Mid-week field trip to see and enjoy some of Oregon's incredible natural beauty. Camp ends with a tournament (included in the fee) where you can put to work what you learned all week. Fitness included daily. Bring your lunch and a drink (there is a food card pod in walking distance). Must have full electric gear. Bring a swimsuit for the field trip! Limited homestays for minor age children at $35.00 per day-includes daily transportation. There is a hotel in walking distance to camp.
Register on line here.    See camp flyer here
August Intermediate Advanced Camp 

Aug 13-17, 2018
Mon – Friday: 8:55 a.m – 3:55 p.m
Ages 10+ Must be in the Pre-Competitive class level or higher or by coach recommendation.
Club Members $375.00     Non – members $475.00
Get ready for the upcoming competition season at our Intermediate – advanced summer camp. Focus is getting ready for the first tournaments of the season coming up in September along with opponent analysis, tactical and critical decision making, distance control, advanced blade work technique, distance control.  Mid-week field trip to see and enjoy some of Oregon's incredible natural beauty. Camp ends with a tournament (included in the fee) where you can put to work what you learned all week. Fitness included daily. Bring your lunch and a drink. Must have full electric gear. Limited homestays available for our out of town campers on a limited basis @$35.00 per day, includes daily transportation and lunch for camp – for minor age campers.  See camp flyer here 
Register on-line here