Transform your Life!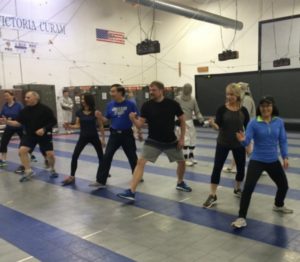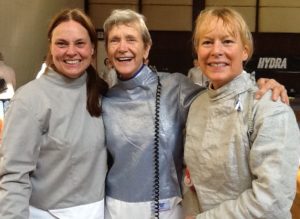 You are never to old to start fencing! Our Sherry Green started fencing at age 61 and made the U.S. National Veteran's team to the World Championships 5x, then won the gold medal in the Women's saber team event. Fencing is a lifelong sport, that keeps you fit mentally and physically in a fun way.
Our adult program takes beginner's who have never fenced before, people who fenced years ago and want to try it again, and those who have kept fencing once they learned the sport. Stay recreational or competitive – its up to you, we go at your pace. Click here to read about the benefits of adult fencing and why and when you should give it a try.
Adults Beginner & Recreational
Just starting out? Our beginners class is the right place.  Wear a loose comfortable T-Shirt, long shorts that cover the knees (basketball shorts are great), or yoga pants (no fleece -too hot!), tightly fitting athletic shoes and if you have long hair bring a ponytail holder. No open toes, no sandals, no crocs, no flipflops, no leather sole shoes. We loan all beginner equipment.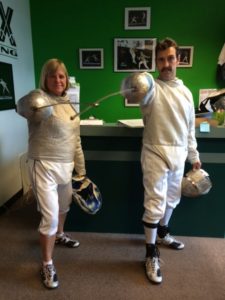 Learn the basics of defense, attacks, footwork and the right of way rules. You will use a sword from the very first class.
Price $75.00 per month
SATURDAYS
Adults ages 16-90  10:15  a.m. – 11:15 a.m.
Once past the basics you can add
WED: 7 – 8:00 p.m
(must purchase own glove, chest protector, mask)

Download waiver form here
Come on in saturday morning to our adults beginner class and give it a try. If you have fenced before our coach will assess your current skill level. Click Here to fill out our trial class waiver form ahead of time, or you can fill it out when you come in.

Adult competitive

For our most advanced adults who want to reach for your maximum potential. You can stay recreational or compete locally, regionally and/or nationally in the North America Cup series, or wanting to make the  U.S. National Team in any adult category including Veteran's. 
Advanced tactics, strategy, video analysis, distance control, mental preparation, competition goal setting, opponent analysis, creative problem solving, etc.
To join you must have coach approval. Must have all competition gear and belong to the U.S. Fencing Association (or your own country Fencing Federation).
Price $140.00 per month                                                                                                                                       
 World Champion – Vets Team member Sherry Green started fencing at age 61
MON (optional)
Work on your own, them join advanced footwork at 5:30, electric fencing with High Performance Competitive 2 group from 6:15-7 p.mTUES/THURS
7 – 8:00, class & electric bouting until 8:30
WED (optional)
7-7:15 footwork, open bouting until 8:00
FRI (For Intermediate to Advanced Students only)
6:30 – 7:30, class then open bouting.

                                                  Rick Herrera wins his first North America Cup medal, he started as a dad bringing his two son's to class