PDX Fencing is a private club. Membership and participation is a privilege, not a right, and has obligations. PDX Fencing expects all members, guests, coaches, volunteers and staff to honor our Rules and Code of conduct. Traditions of a fencing salle d'arms have developed over centuries. They promote and encourage self respect, respect for others involved (including one's opponent), self-discipline, good sportsmanship, and safety. These are the hallmarks of our club.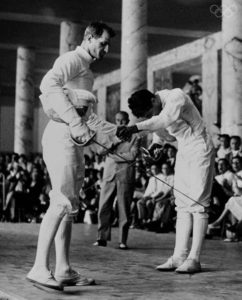 Annual dues:
Single member $75.00 per year
Family membership: $100.00 per year
Benefits of membership:
Discount on most merchandise of 5% when paid at time of purchase or order.
Discount on private lessons and camps.
Participate in classes, open bouting, club events
Use of facilities, armory, locker area, wi-fi, home-work area
Certified coaches and instructors
Access to leadership and mentoring program
Eligible to compete on PDX Fencing Team events
To become a member you must:
Fill our our application form and bring it into the club, If for a minor age fencer, please be sure you and your child understand the rules and sign the form.
Join the USA Fencing Association, and list PDX Fencing as your primary fencing club.

USA Fencing Membership
Joining USA Fencing is easy and very affordable.
Select one (annual dues):
Beginning fencers:  Non-Competitive – $10 yearly
Supporting:  $25 – Includes American Fencing Magazine subscription (a great magazine), and voting rights.
Competing fencer:   Competitive – $75, you may upgrade from Non-Competitive or Supporting at any time or once you start to compete.
Please register online with USA Fencing at USA Membership (click here) and update us with your membership number.