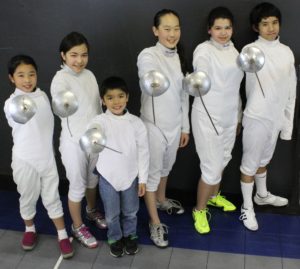 Beginner Fencing camp is a great way to introduce any child to the exhilarating Olympic sport of sword fighting – fencing.   For the summer fun experience of a life-time!
Learn To Fence Camp Summer 2021

Summer 2021 Fencing camp is a great way to discover that inner zorro or jedi knight! This summer have your child participate in a 5 day Learn to Fence camp that will get your child moving and off those devices.   Fencing teaches focus, co-ordination, agility, confidence, creative problem solving and a host of life skills – and it's fun!  Learn the basics of defense then tactical strategies of offense. Participants will hold and use a saber sword on the very first day!  A fun filled, active and engaging 1/2 day camp over five days taught by experienced professional coaches in a family friendly environment that will get your kids moving, having a blast and off those devices.  Must be 8+yrs up to 16.
Fencing is a non-body contact sport, All participants will use a glove, mask and jacket that are sanitized with each use.
Camp sizes are limited and using COVID 19 safety guidelines
Beginners Youth Camp
June 21 - 25, 2021
For kids age 7 – 16
Mon- Friday from 9 a.m – 11:55 noon
Non members $175.00/Club members $150.00
Prepay with registration at least 30 days in advance and save $25.00. Due to co-vid don't wait, register now to save your space due limited space. First come – first served.
Family discounts for more than one child ($25.00 off each additional child in same family)
En guarde! Let's have fun from day one. Fun games to teach footwork, basics of attack and defense with games to reinforce technique and listening skills. Learn the safety rules, right of way rules, and hold a saber sword from the very first day. At the end of the camp we bring out the real competition light sabers so the kids try them out with their newly learned skills!
The camps are held right in our state of the art facility which is heated or air-conditioned, has wi-fi and all set with strict guidelines to keep our students and staff safe. All participants must wear a mask to enter and leave the facility. Bring a water bottle and light snack. Be ready to have an active and fun afternoon! Conveniently located right off the 217 Freeway at the Allen exit.
Click button below, to register on line now.
A Professional coach and an assistant from PDX Fencing will teach the camp and follow safety guidelines. Please have your participant wear a mask or face covering to enter and leave. We will be use physical distancing. and bring a water bottle.and light snack.