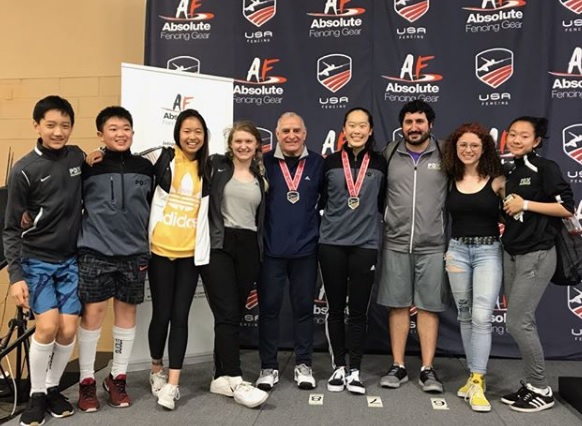 PDX Fencing is led by Charles Randall. Charles has coached saber exclusively for over 40 years, including the Women's Div. 1 Saber team in Mexico, and a number of National, NCAA Collegiate and International champions in the USA and Mexico. He knows how important it is to treat every athlete like an all-star, no matter how young or old they are. Over the years he has developed a powerful youth and adult program that has helped thousands of fencers love the sport and reach their potential, while enjoying the game more and more each time they play. His hand picked staff of well seasoned, accomplished coaches share his philosophy and have taught students to strive to reach for their maximum potential.

Mission
At PDX Fencing our mission is to empower the youth or adult student to love the game, help them master the fundamentals and reach their potential - on and off the strip

Community
You will be surrounded by a happy, engaged community of positive people helping each other thrive.

Values
With PDX Fencing core values based on integrity and strong self worth, we strive to build self confidence, critical problem solving, poise and a healthy body. All of the necessary tools for the future.
Head Coach – Founder, Charles Randall
Charles Randall has been fencing exclusively saber since he was in grade school. He came to the attention of the
legendary fencing master, Giorgio Santelli who was an Olympic Gold medalist, and 5 time U.S. National Olympic coach, and then USA Olympic coach (1964-1984) Csaba Elthes.
Some previous highlights:
     Malia Hee, has won five national championships, SILVER at the Jr. World Cup in Phoenix AZ,  the 2018 NCAA Elite 90 award, and All American. Joy Yun – All American, 2019 Div 1A National Champion & 2016 Div 2 National Champion- 2022-23 Stanford University Saber Team Captain, Megumi Oishi -Gold Medal Winner –  2019 Japan Cup – Asian Cadet Circut., Kerry Plunkett 2019 NCAA All American,  Logan Spear (Men's Div. 2 National Champion 2014 – Stanford University 2x Team Captain), Becca Ward 3x World Champion, 2x Olympic Bronze medalist, 3x NCAA champion, Sherry Green Veterans World Champion Gold (team).. Team PDX has won more than 700 medals regionally,  nationally and internationally in youth and adult categories.
 In Mexico, students of Charles Randall include National Saber Team Member Yesenia Anylu Cruz (bronze medal winner at the Central American Games), Ariana Noemi Arandas (2x national champion), and multi year team member, Hector De La Torre – National Champion, Jr. Olympic Champion, Jorge De La Torre (Jr Olympic Silver and National medalist), 2x Olympian Ursula Gonzalez, Jr. World Championships bronze medalist Vannesa Infante, and Pilar Duenas  – Italy Rome Cup Gold medalist.
Coach Randall has also worked with 2021 and 2022 Veterans World Mens Saber Champion, and 2023 Team USA World Championship member Mark Lundborg; French Cadet National Saber Champion Anna La Porte, and Spanish Saber Men's team member Carlos Florez.
Coach Randall thrives on inspiring students to achieve their very best. He prefers to let his student's results do the talking.
2023 Highlights:
*Jamie Willemse, SILVER MEDAL, Women's Saber Cat. One – Pan American Youth and Veterans Fencing Championships 2023
*2023 Summer Nationals medalists: Megumi Oishi (Silver), Lynn Zhang, Yoko Oishi
*Regional Top Youth & Vet Saber Fencers in Region One:
Y12 Women: Rony Dolev (GOLD)
Jasmijn Lemmen (SILVER)
Y14 Women : Margo Insalaco (BRONZE) Cadet Womens: Jaslene Lim (SILVER)
JR Womens -Jaslene Lim (BRONZE)
Cadet Mens- George Luo & Alex Pi (GOLD-tied)
Jr. Mens Saber – George Luo (GOLD)
Veteran Women's: Jamie Willemse (SILVER)
101 Regional medals: 16 GOLD, 17 SILVER, 23 BRONZE, 44 Other.
8 National medals
*NCAA All American – Megumi Oishi, NorthWestern University
*MPSF Champion, Joy Yun, Stanford University Saber Team Captain
* 100th win, Sophie Gajowskji, Drew University Saber Team Captain
2009 – 2023 College NCAA & Beyond
We are especially proud that PDX Collegiate fencers are actively watched and recruited by many excellent schools across country. Our students are and have been vital parts of many NCAA fencing teams since we started in 2009. Those that have and are fencing for schools have found a thriving and exhilirating way to truly experience college in a unque way and truly enjoy the collegiate fencing scene. Many have made lifelong friends, and most return home to PDX Fencing during their school breaks to keep training, give back by mentoring, and return to school in tip top shape for the new competitive season. Sharing their college experience with our developing youth fencers really helps motivate young fencers to realize that fencing in college is a possibility for them. The chance to spend time, fence and ask questions with high performance athletes in the fencing club is a great opportunity.
Our gradutates have been recruited by Stanford University, Duke University, Yale University, Harvard University, Cornell, Brown, Northwestern, Notre Dame, Penn State, Haverford, Temple, John Hopkins, Wellsley, Brandeis, Sacred Hearts, Drew, Boston College, and many many more.
After college, most of our fencers stay active in their sport, and when in Oregon return to fence at their other home "PDX Fencing. Those that move back to Oregon and the region for careers are active PDX Fencing club members. Logan Spear, now living in California, was a founding member and frequently returns "home" and keeps in touch with his coaches and lifelong friends/alumni made during his youth fencing years at PDX Fencing.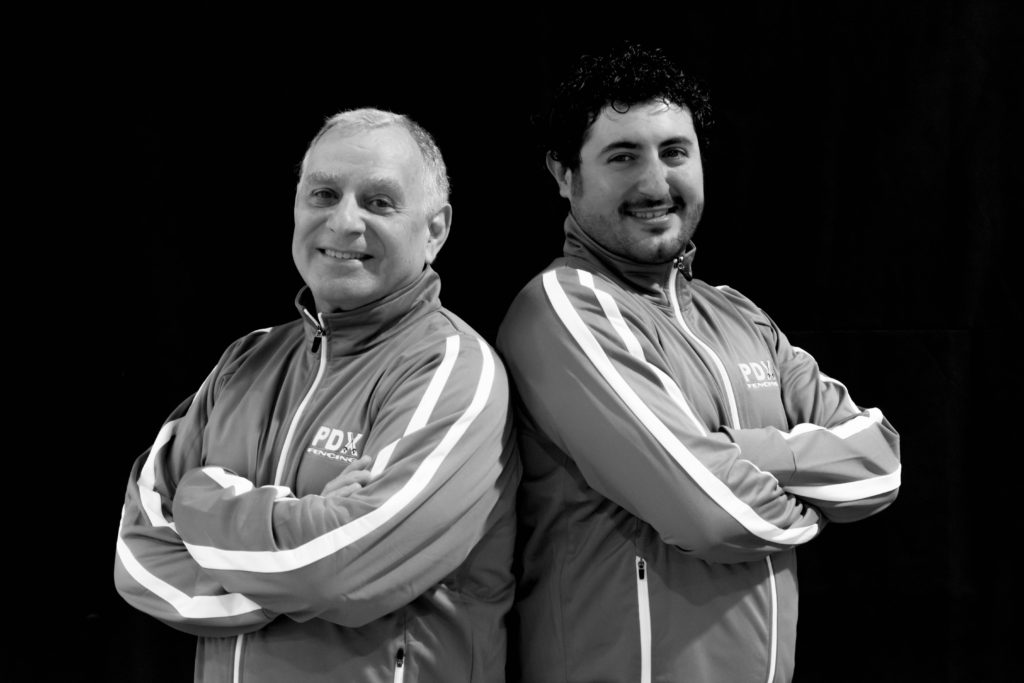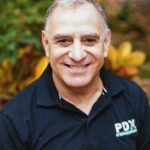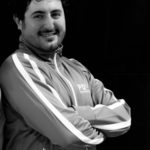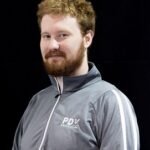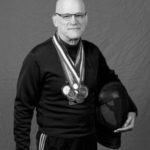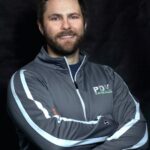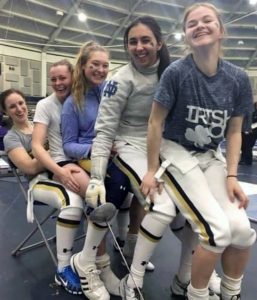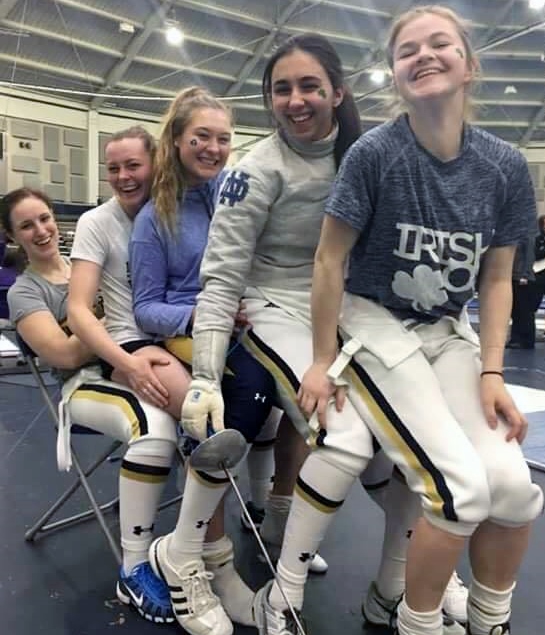 At PDX Fencing we've developed a program that has proven to get the athlete (child or adult) to where they want to be. Our founder, Charles Randall, developed this system based on years of experience as a competitive fencer and coach. He has introduced thousands of children and adults to saber fencing, and help students perfect their skills, achieving beyond what they thought was possible. Many of our young athletes get recruited by some of the most respected colleges and universities in the country.
All coaches at PDX Fencing are certified with SafeSport, First Aid/CPR and USA Fencing, and fence saber as their primary weapon. Their love of the sport and strong family values permeate the atmosphere as they share their knowledge of sports and life with students of all ages and fencing levels. All coaches were/are students of Coach Randall's and share his philosophy of athlete first.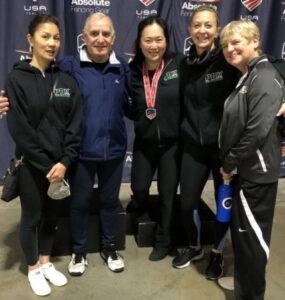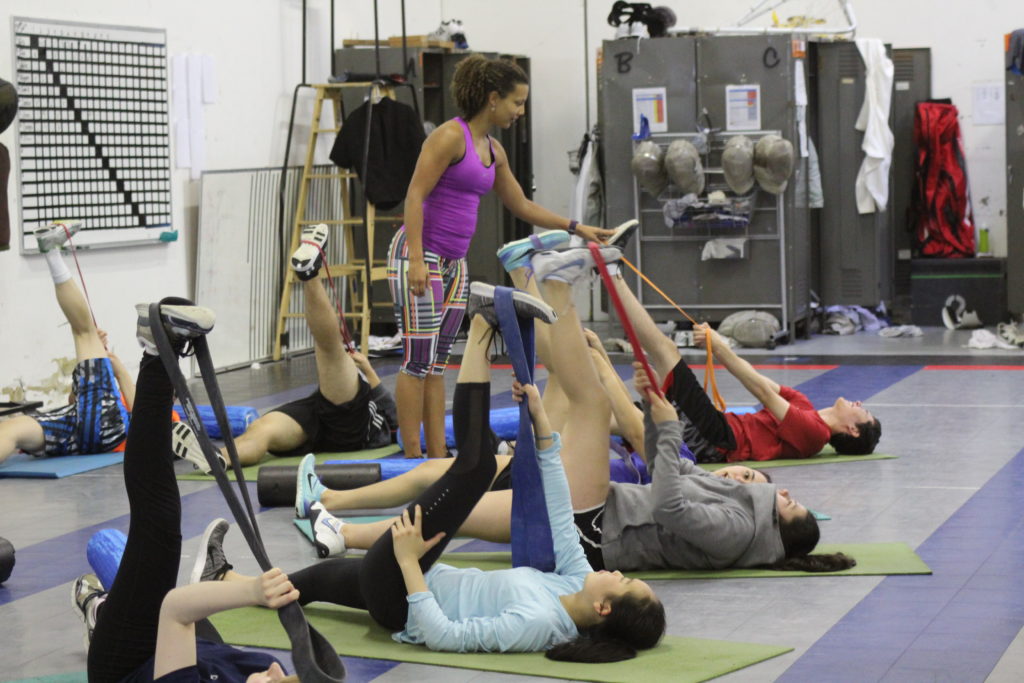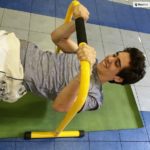 Our Fitness Team - the key to injury prevention
State of the Art Facility
Our facility is equipped with special sport court flooring, making movement easier on hips, knees and joints. Heated, air-conditioned, with limited spectator seating with physical distancing, WiFi, gear shop, reception area,  and closed circuit t.v throughout. We have a quiet homework and work area for those waiting for class to start or end, and snack and drink machines.  Sanitizing, and cleaning protocols are followed. Check in procedure at the door for screening include hand sanitizer or handwashing required. Air sanitizers in the  front reception area and in the fencing area along with cleaning stations and hand sanitizers throughout the entire facility.

Kara Gajowskj (she) is a certified youth fitness trainer with additional certifications in yoga and pilates. She is a tennis pro, fencing mom, and has fenced herself (Her daughter is an NCAA college fencer and 2023 Captain of her University saber team). She co-ordinates from deep personal knowledge as her daughter started fencing at age 8; her workouts work different areas of the body for optimum fitness and injury prevention for fencers .




Jaime Willemse (she) has multi-disciplinary degree(s) in health, nutrition, and exercise science. Her practical work experience includes more than 8 years working with kids & teens focusing on exercise, self esteem and nutrition. Her kickboxing- cardio workout classes are a club favorite. Her attention to correct technique in each phase of exercise helps each athlete to maximize their workout. She is a 2023 USA Veterans World Championships Team (saber) member.


William Arzola has a master fitness degree in exercise science and sports organization. An active competitive athlete his through out his youth through collegiate years, and natioanal saber coach (Mexico) Coach Willy brings a personal and unique experience to his workouts . His personal success in competitive sports fuel his creative and motivating hands on approach to fitness training for injury prevention while building strong and flexible bodies. His dynamic workouts at PDX are specific for injury prevention for fencing and overall fitness..
PDX Fencing is conveniently located in Beaverton, Oregon right off the 217 Freeway at the Allen Blvd. exit. We serve everywhere the Portland airport serves including: Beaverton, Camas, Hillsboro, Lake Oswego, Oregon City, Portland, Sherwood, Tigard, West Linn,  Vancouver, Wilsonville, etc.