Youth Beginner Classes
Just starting out? Our beginners class is the right place.  All beginners regardless of age will need to wear a loose comfortable T-Shirt, long shorts that cover the knees (basketball shorts are great), or yoga pants (no fleece -too hot!), tightly fitting athletic shoes. No open toes, no sandals, no crocs, no flipflops, no dress shoes, no leather sole shoes. We loan all beginner equipment, once you decide to continue we suggest you buy a glove ($12-22.00 U.S.).
You/your child will learn the basics of defense, attacks, footwork and the right of way rules. You will use a sword from the very first class.
$75.00 per month
SATURDAYS
Children 7-15
9:00  – 10:15 a.m

Advanced Beginners – Youth
Building on the basics, increased tactics, learn more parries and different attacks,  distance control, learn to use the point, strategy including using the rules, technique, timing agility, physical conditioning in a fun, active environment. Sportmanship, honor, courtesy and respect for your opponent and yourself are emphasized. Must be mininum age 8.
Promotion to this class is based on the fencer's skill level and completion of the beginner's work book. Expected to participate in the summer fencing camps (many class promotions are made based on skill levels shown and achieved in the summer camps).
Your own knickers (fencing pants), chest protector, mask, glove and white practice jacket required.
$125.00 per month
TUES/THURS
6:30 – 7:30 p.m

Pre-Competitive Youth
Advanced tactics, goal setting, pre competition warm up routines, mental preparation, distance control, learn how to compete and use electrical equipment. Acquire electrical gear. If you can't get here at 4:30 sharp on Friday, join in as soon as you get here, warm up first.  Stay after class Friday for open bouting (also called Friday Fight Night), start to compete in our club member only tournaments, move to local regional tournaments if desired. Expected to participate in the Summer and Winter fencing camps.
$165.00 per month
MON 6:30 – 7:30 p.m.
WED  6:30 – 7:30 p.m
FRI 4:30 – 6:00
Recommended to stay on Friday for 6-7 p.m. for open Electric Bouting

Competitive 1 Youth
Advanced tactics, strategy, mental preparation, goal setting, analysis ,creative problem solving, team dynamics, opponent analysis, technique refinement, injury prevention, responsibility. Students are fencing Friday evening at Fight night and our in-house progressives and local regional tournaments. Those who are serious start to travel and compete in regional and national tournaments. Must have all competition gear and be a member of the U.S. Fencing Association. Expected to participate in the Pre-Nationals, Summer and Winter fencing camps.
$165.00 per month
TUE/WED/THUR
4:30 – 6:00
FRI
Fitness 4:30 – 5:30, open bouting 5:30-7:00

Open Bouting
Open bouting is on Friday's year round. Once the coach invites you to start attending Friday Night Fight night, you can join in the fun. Coaches and student coaches are all fencing and giving free tips. Advanced students join in to mentor and assist everyone.  The TWO RULES that are strictly enforced: you MUST FENCE EVERYONE who asks you. You MUST ask different people to fence.
You must have all your uniform (white jacket, pants, chest protector, glove and electrical cords). If you do not have all your own electric gear, we rent it.

Competitive 2
Our most advanced fencers take it to their maximum potential. Highest level fitness, injury prevention, nutrition, tactics, drills, strategy, nutrition, goal setting, creative problem solving, learning how to handle referees, video analysis, the science of practice, sports psychology, and highest level competitions.
Mentoring younger fencers is required. Optional leadership program (no charge) for those wishing to learn leadership skills.
Fencers can stay recreational but fence at highest level, serious fencers can try to make a college team, or the U.S. National team. Competitive fencers are required to participate in the Pre-Nationals, International Summer, and Winter High Performance camps.
$210.00
MON-THURS
4:00 – 7:00
FRI
4:30 Fitness and  5:30 on Open bouting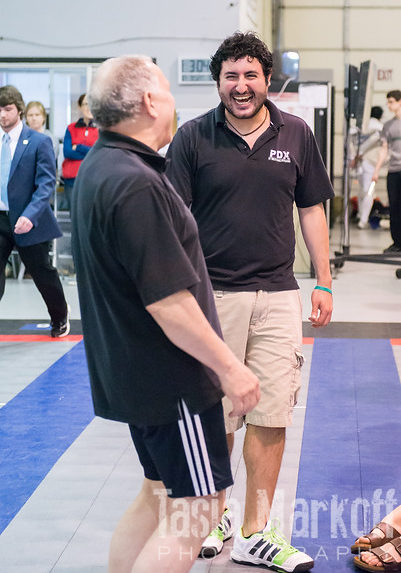 From kids to adults
From children to adults our coaches love to see each person enjoy and learn this exhilarating, life long sport. Each coach feels the very  personal reward when someone reaches and exceeds their goals no matter what their age.
Gear Shop
Our gear shop carries everything you need to fence saber! We custom make your saber using only the best quality parts.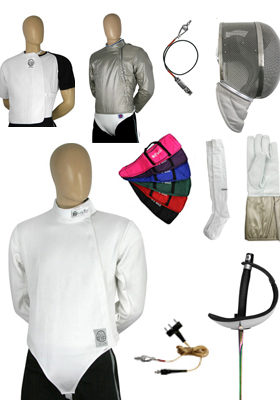 Next Steps…
Get started now! Don't wait. First class? Just come in on Saturday morning and try our beginners class. Dress in loose comfortable clothing like a T-shirt, long baggy shorts that cover the knees (basketball shorts are great), or yoga pants, wear tightly fitting athletic shoes (no open toes, no crocs, no flipflops), be ready to be active! Try to arrive a few minutes early to fill out our trial class form, or download it now to fill out ahead of time and bring it in with you.